MY BLOG
Posts for: December, 2016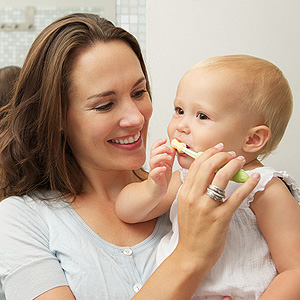 You can't go wrong with an early start caring for your child's teeth and gums. In fact, dental care should begin in earnest when their first tooth appears.
You should begin by gently cleaning your infant's gums and new teeth after each feeding with a clean, water-soaked washcloth or gauze pad. Once they start eating solid food, you should transition to a soft-bristled brush with just a smear of fluoridated toothpaste. Around age 2, you can increase that to a pea-sized amount and begin teach them to brush for themselves.
The next important element in your child's dental care is beginning regular dental visits around their first birthday. There are good reasons to begin visits at this time. There primary teeth should now be erupting in earnest and you'll want to begin prevention measures against tooth decay if needed. You'll also want to get them used to going to the dentist early in life: if you wait a year or two later, they may not respond well to the unfamiliar surroundings of a dental office.
There are also a number of things you can do to support hygiene and dental visits. You should not allow your child to sleep with a pacifier covered or a bottle filled with anything but water. Milk, juices and other sugar-containing liquids will raise the risk of tooth decay. And speaking of sugar, limit their consumption to meal times: snacking constantly on sugar can create an environment ripe for decay.
Of course, dental disease isn't the only hazard your child's teeth may face. Accidents can happen and your child's otherwise healthy teeth could be injured. So, make sure they don't play too close to hard furniture or other features around the house they could fall on. If they should begin playing contact sports, invest in a custom mouth guard — avoiding an injury is well worth the cost.
Getting into dental care with your children as soon as possible will set the foundation for good oral health. And the example you set will stick with them as they take on their own dental care when they're older.
If you would like more information on caring for your child's teeth, please contact us or schedule an appointment for a consultation. You can also learn more about this topic by reading the Dear Doctor magazine article "Top 10 Oral Health Tips for Children."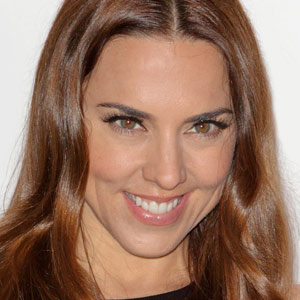 As a member of the best-selling pop group Spice Girls, Mel C (AKA Sporty Spice) enjoyed her share of musical superstardom. At the band's peak in the Nineties, the young singer's signature look featured baggy sweatpants, an assortment of tattoos, a nose stud and a gold-capped incisor, front and center in her mouth. Today, Melanie Chisholm is still singing — but now she's a mom, an amateur triathlete… and that gold tooth is just a memory. Not only that, her smile looks more evenly spaced and whiter than it did when she was referred to as the "tomboy" of the group.
What happened? In our view, it all boils down to changing tastes — plus a little bit of help from dental professionals. As the "wannabe" singer proves, there's no single standard when it comes to making your teeth look their best. Your own look is unique to you — and your smile can reflect that individuality.
For example, crowns (caps) are substantial coverings that may be placed on teeth when they are being restored. They are available in three types: gold, all-porcelain, or porcelain-fused-to-metal. The latter two are tooth-colored, while the gold is — well, shiny like gold bling. Which one is right for you? In many cases, it's your choice.
Likewise, dental veneers — wafer-thin shells that can correct cosmetic issues by covering the surface of your teeth — can be made in a variety of shades. Their hues may range from natural ivory to Hollywood white, and everything in between. What's the best color for you? Only you can say.
Some people opt for a "smile makeover" that uses small irregularities in the spacing and color of teeth to create a more "natural" look. Other folks want a perfectly even, brilliant white smile that dazzles the eye. Still others are looking to match or restore the smile they once had — perhaps even re-creating a signature gap between the teeth. As long as there are no other dental issues involved, the choice is yours.
So if you're unhappy with your smile — or if you feel it doesn't reflect the person you "wannabe" — why not talk to us about a smile makeover? Just call our office to schedule a consultation. You can learn more about this topic in the Dear Doctor magazine articles "Beautiful Smiles by Design" and "The Impact of a Smile Makeover."